While some people may want to get away and "unplug" from their everyday lives while traveling in their RVs, many still want all the comforts and conveniences of home including computers, iPads, and televisions. For all those who want to tune in and watch their favorite shows while on the road, NewRVer.com offers some tips on getting television reception in your RV.
There are three options to get a TV signal inside an RV: satellite, cable or antenna. Many RVers use a combination of methods, depending on their travels and budget. For those who are lucky to have Internet access, there are multiple streaming services available such as Netflix, Apple iTunes and Hulu.
Using a satellite dish is a popular way to get reception, although individuals who choose this option should know that getting local network channels isn't an option when you travel outside of what's considered your local service area unless you contact your company and change your "home base." This can sometimes be a hassle to get on the line and talk to a customer service rep. Most times you will be on hold long enough before you get frustrated and hang up.
The best selling portable satellite antenna is the Dish Tailgater which you can purchase at Camping World for $349. Not only is it the best portable satellite for your RV, but can also be used for any outdoor event such as camping and tailgating.
"Easiest set up available. Dish Network rep was super helpful and had the package and programming working in less than 20 minutes." – Richard P. El Paso, TX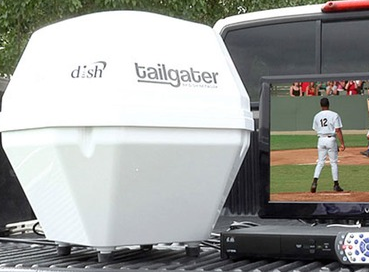 The Dish Tailgater is the first truly automatic portable satellite antenna with full integrated antenna and software. It's weather-resistant cover is perfect for most outdoor conditions and comes with a built-in security bracket. The Dish Tailgater is the best portable satellite for half the price of competing products.

"Great product, extremely simple to setup and operate. Great technical support is available from Dish's RV tech support Help line." – Anonymous Mesa, AZ
Go watch a video that shows more details about the Dish Tailgater.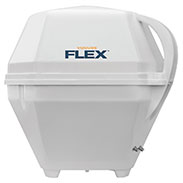 The VuQube Flex easily locks on with just a push of a button in only a matter of minutes. It's very easy to set up and works with DIRECTV SD, DISH SD and HD and Bell TV SD and HD service. There's no external power connection needed, just a single coax cable.
"I was greatly please to find out how easy it was to set up. I drive for a living and being able to get Directv on the road was a HUGE plus. I was in Canada and not only could I get the upper stations, I was able to get my local stations. I would recommend this to anyone!" – Anonymous
Go look at more details about the VuQube Flex.
Satellite dishes can be mounted on your RV itself, or can be portable satellite units that sit on the ground outside of the vehicle whenever you stop such as the DISH Tailgater.
Cable television is a good option for people who travel to RV parks instead of more remote locations since you'll need a cable hookup in order to get reception. You will normally not get as many channels as your personal portable satellite, but it's better than nothing. Sometimes RV parks and campgrounds will charge it's customers to use the cable tv service. For a list of campgrounds and if they have cable tv hookups, visit the campground directory at TrailerLifeDirectory.com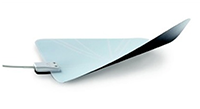 Antennas allow you to receive local broadcast channels over the air for free, mostly in full HD video. Camping World offers the Winegard Rayzar on sale for $39.99 that allows you to receive channels like NBC, FOX, ABC and CBS all for free in HD. It pulls channels in up to 25 miles away and sticks right on your window.
"Works great. Picked up 6 channels after we had it all hooked up. Well worth the money." KBrack Etowah, TN
No assembly required. No permanent installation required. Easy mount suction cups included.
You will be amazed at the almost Blu-ray quality picture and number of channels it pulls in for free wherever they are parked.
We hope this helped you get the most TV reception in your RV. What other tips do you have for getting TV reception in your RV?