Great Grilling While Camping or at Home with the Weber Q200 Gas Grill
My wife and I had purchased a cheap gas grill for our home when we first got married (I won't mention the brand, but it was not Weber). By the end of the first year, the grill had broke and I had become frustrated looking for the right part to fix it. I trashed the grill within a year.
The next summer we bought a Weber charcoal grill and loved this grill. Grilling on charcoal is fantastic. But we did miss the simplicity of the gas grill, especially for those days when I decided to grill on a whim. I kept thinking it would be great to have both, but never could really justify buying a second grill.
A Second Need Comes Up & I Make A Second Mistake
We have always been a camping family, but this summer we decided to take our camping to the next level when we started our blog, Beyond The Tent. We were out camping every weekend and before one of our trips I decided I needed a good grill to accompany my camping stove.
This is where I made my second mistake… I purchased another cheap grill. I liked nothing about this grill and to make matters worse, it was dead after two camping trips.
My Redemption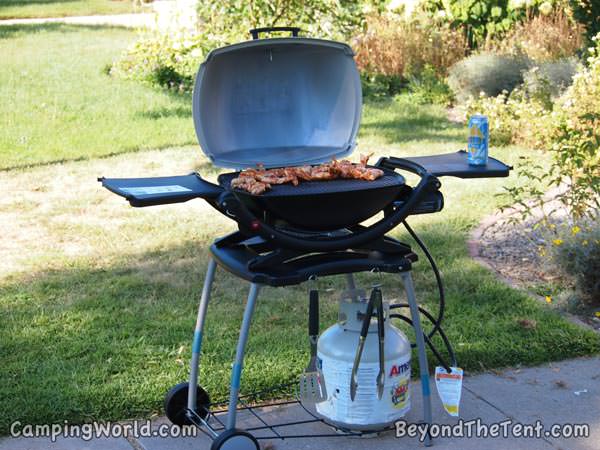 After that grill it was time to do things right again. I got the Weber Q200 gas grill from Camping World. I wanted a grill that was portable, yet not wimpy. I wanted to be able to cook up a storm at home if I felt like using gas, but also be able to pack the grill into our camper and take it on our frequent camping trips.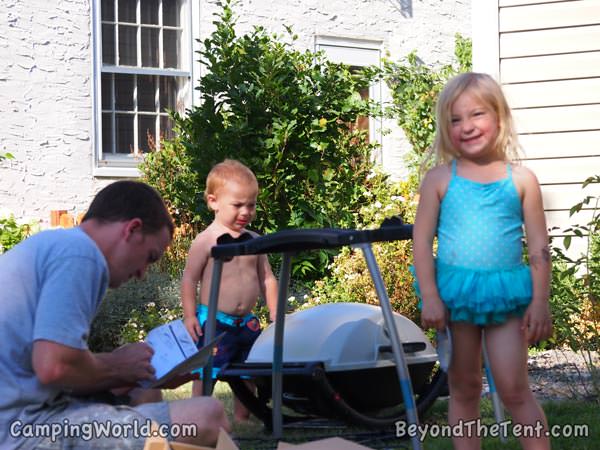 The Q200 has been everything I was hoping for (I know, sappy, but true!). This grill is durable enough that it should last me years (my charcoal Weber is going on 6 years and still as sturdy as the day I bought it). It is also big enough that I can cook a meal for our family of 7 in one session. With other portable grills that was simply not possible.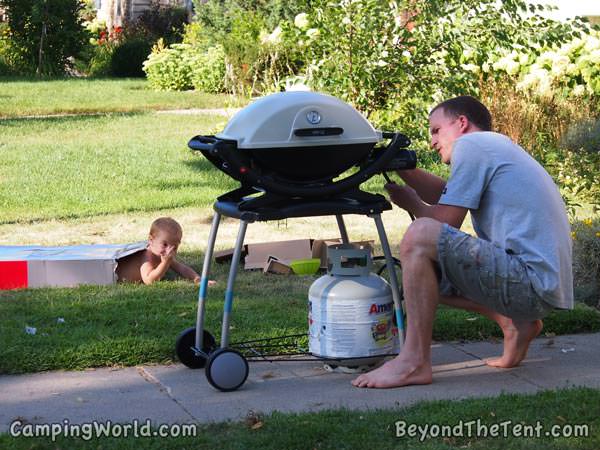 I love the design of this grill. While big, the grill is designed to not take up as much space as a grill with that much grilling space should. The sides of the grill fold up nicely and the height of the grill makes it fit easily in our camper in one of the storage compartments. The grill is also designed to run off of small camping propane tanks, which would be handy if you weren't already brining a large propane tank (which we often times are).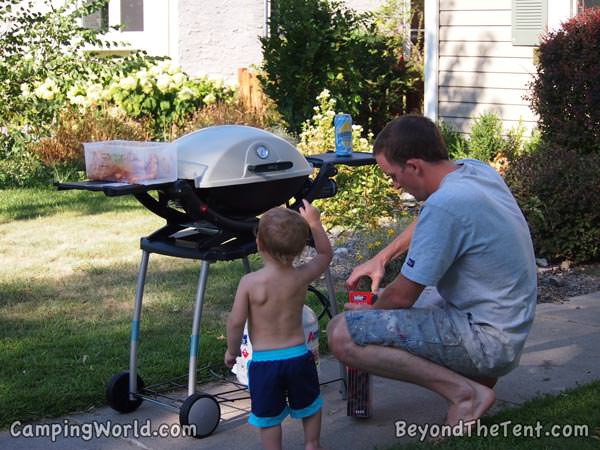 The main thing that really has gotten me pumped about this grill is that it isn't just for camping. Most of my grilling happens at home, so to have a grill that works at home and at a campsite is fantastic. When I got the grill I immediately got an adapter to hook it up to larger propane tanks, I also purchase the Weber Rolling Stand. The stand brings the grill up to normal height, holds the propane tank and makes the grill easily portable around the yard which is handy since I often grill in the front and back yard of our home.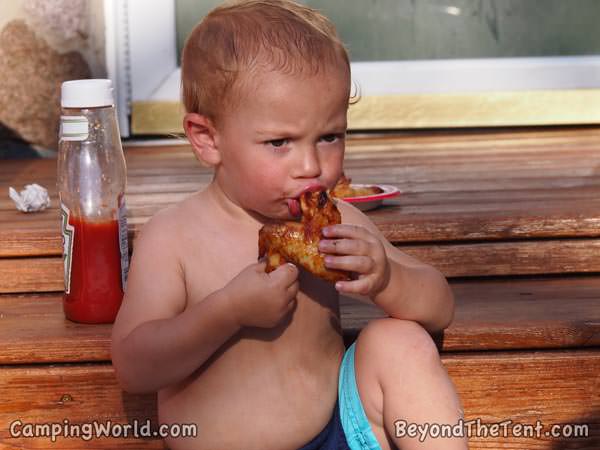 Rather than bore you with technical specs about the Weber Q200, here is a link to the Weber Q200 on Camping World where you can purchase the grill. If you are like me, here is the link to the rolling cart as well.
Overall, the Weber Q200 is my new favorite grill, along with my Weber charcoal grill of course! It is a great investment for grilling at home and while camping.
Happy Camping!
- Ryan
Related Articles
comments powered by

Disqus
Search by Category
Archives