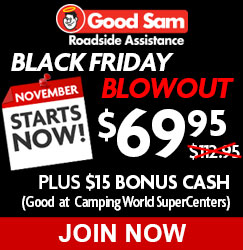 8-Spoke Wheel 15" x 4 1/2" - 6 Lugs - 6" Bolt Pattern
Dress up your trailer's wheels.
Wheels
An inverter is an important feature of your recreational vehicle. It provides your RV reliable AC power from your existing supply so you can use your appliances with ease. If you want your computer and television to work without a glitch, make sure that your inverter is working properly and is in good shape. If not, you can always look into Camping World's selection of inverters and chargers so you can still tune into your favorite TV show while out in the middle of the woods.